Are you looking for some great kids' movies about emotions? Movies that help children identify and cope with their own feelings?
If so, you've come to the right place.
We're big on teaching our kids about emotions in our home, and we're also very picky about the quality and quantity of our kids' screen time.
The movies that we selected for this list are great for teaching kids about their emotions – and they're good for parents and caregivers to watch, too.
Insight into your child's emotions is always a good thing.
So, let's dive right in.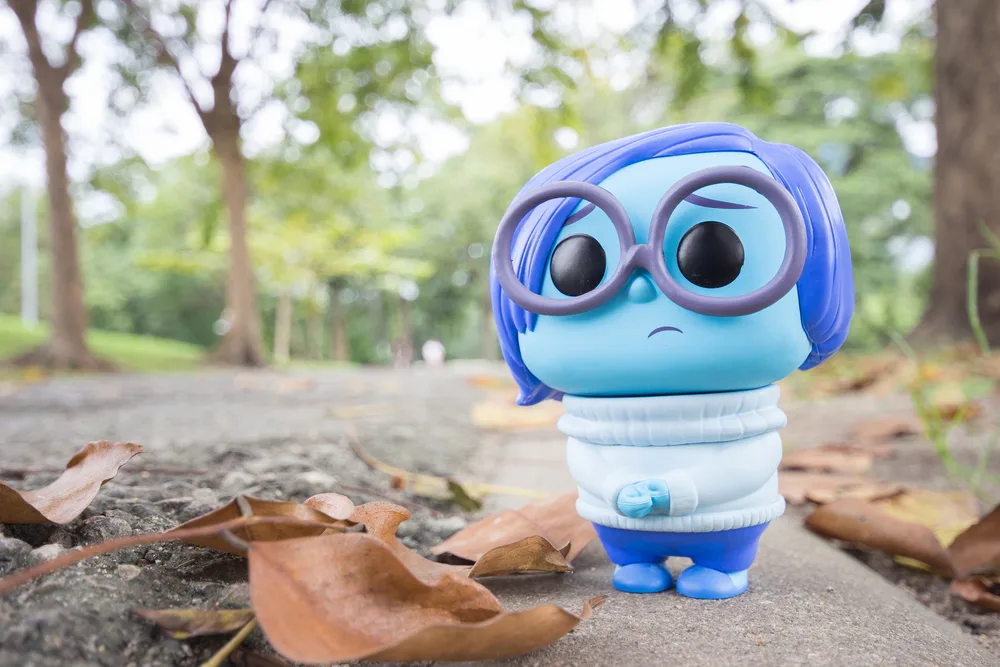 How can movies help kids learn about emotional intelligence?
Experts agree that emotions and feelings play an array of vital roles in our lives.
The extent to which we express our emotions, how we choose to express them, and which ones we express, affects every aspect of our daily living and relationships.
Emotions and feelings are a big deal – we don't want our children to reach adulthood without being able to identify them and express them in healthy ways.
Both TV shows and movies can be great tools for helping kids learn about their emotions.
Writers, producers, and animators can bring to life things that parents, teachers, and caregivers put so much time into teaching.
In a matter of a 20-minute episode (or 7 minutes for shows like Bluey), children can watch their favorite characters encounter a difficult situation, identify the emotions they're having, and express those emotions effectively and in a healthy way.
Movies, like the ones listed below, can help kids learn about emotional intelligence and be used as aids in our teaching and parenting.
9 awesome kids' movies about emotions
If you haven't yet seen the movie Inside Out, I assure you – it's impressive.
The premise behind the movie is that the main character, a 12-year-old girl named Riley, moves to a new state with her parents.
It's a stressful situation for her and it causes a chain reaction of events.
This movie breaks down a child's emotions into parts and shows how each individual emotion is related to other emotions, and to personality as a whole.
Inside Out shows children (and adults) how important expressing their emotions is – even the negative ones.
Emotions & feelings that Inside Out explores:
Anger
Disgust
Happiness
Sadness
Fear
Turning Red is a coming-of-age animated movie by Disney/Pixar that follows a 13-year-old girl, Mei Lee, on an adventure of defiance and transition.
Turning Red explores Mei Lee's relationship with her mother, as well as her friendships.
As with many, if not most, 13-year-olds, this is the age when they begin to rely upon their friends for comfort, which Mei Lee learns to do in the film.
The red panda in the film represents Mei Lee's strong emotions. For generations in her family, the women's red pandas (strong emotions) were kept locked away.
Mei decides to break the generational habit by allowing the red panda to remain out in the open but under her control.
Emotions & feelings that Turning Red explores:
Belonging
Embarrassment
Strain
Courage
Rebellion
Charlotte's Web is a classic children's book that's been made into a children's movie more than once. The 2006 version of Charlotte's Web is simply beautiful, though.
The book and movie are about a pig named Wilbur and a spider named Charlotte.
Wilbur learns that he's being fattened to be killed and eaten, and Charlotte works tirelessly to help save his life by writing messages to the farmer on her web.
The overarching themes of this movie are friendship and teamwork, however, there are many emotional intelligence lessons woven throughout, as well.
Emotions & feelings that Charlotte's Web explores:
Acceptance
Empathy
Attachment
Heartbreak
Belonging
Frozen II is a Disney movie that revolves around the emotions of love, loss, and friendship.
The film series certainly helps teach children about the emotions they experience in life. Frozen II, however, takes lessons of emotional intelligence to the next level.
The 2 main characters, Elsa and Anna, the Queen and Princess of Arendelle, learn that their mother was a member of an indigenous tribe called the Northuldra.
They learn that before they were born, their royal relatives attacked the tribe, killing its leader.
The two women grapple with the truth about the past and set forth to make things right.
This is a complex topic that Disney did pretty well with. The women come to realize that doing the right thing sometimes comes with sacrifice.
Emotions & feelings that Frozen II explores:
Compassion
Justice
Empathy
Manipulation
Sadness
The movie Up is an interesting one that explores a variety of feelings and emotions.
In this movie, Carl Fredricksen and his wife meet as children, and they dream about adventuring to a place called Paradise Falls.
Time goes on and they get married, try to start a family (a venture that is not successful), and grow old together.
Carl's wife passes away, leaving the 78-year-old grumpy and alone.
One day, he sets off on a journey with a sidekick to fulfill the childhood dream he shared with his wife.
This movie is a bit of a tear-jerker, I must warn you. Especially for those who've experienced infertility or the loss of pregnancy.
Emotions & feelings that Up explores:
Sadness
Apathy
Excitement
Attachment
Love
Coco is a beautiful animated movie that's inspired by the Mexican holiday, Dia de Muertos.
The main character of the movie is named Miguel. Music has been banned in his home by his great-grandmother, Imelda, who was left by her husband to pursue a music career.
Miguel has a passion for music and he believes his great-grandfather, the man who left Imelda, is a deceased famous musician.
He embarks on a journey on Dia de Muertos to find the truth about his ancestor.
Coco is a fun movie with solemn undertones. In this movie, kids get to see a variety of emotional expressions.
This is also a great movie to open up conversations about this cultural holiday (Dia de Muertos), as well as others, and about their own culture's practices regarding honoring deceased loved ones.
Emotions & feelings that Coco explores:
Love
Sadness
Justice
Joy
Belonging
Soul is a Disney/Pixar animated film about an aspiring professional jazz musician, Joe Gardner, who is about to get his big break immediately before his untimely death.
Joe travels to a place called "The Great Before" (where souls are developed), where he befriends a soul, 22.
His new friend and he discover that he's actually in a coma and can return to his body after certain conditions are met.
The two friends go on an adventure and Joe ends up gaining insight into his life which helps him appreciate it more when returns to his body.
Soul dives into some pretty deep themes, such as life's purpose and finding happiness without excitement.
Emotions & feelings that Soul explores:
Joy
Success
Motivation
Unhappiness
Regret
Wreck-It Ralph is a movie about a video game character, a villain. His purpose in the game is to destroy things, but he'd like to be seen as a good guy and he sets out on a quest to accomplish this.
The idea that a movie about a video game character called Wreck-It Ralph could be an emotional intelligence tool might seem absurd.
This movie has a lot of deep themes, if you look below the surface, though.
Ralph isn't a true "bad guy", he's actually pretty nice. He's been given that assignment -that label – in the game, however.
This is a great movie for both parents and kids to watch if you catch our drift.
Emotions & feelings the Wreck-It Ralph Explores:
Failure
Hope
Acceptance
Kindness
Motivation
Over the Moon is a beautiful movie that is filled with lessons on emotions for kids.
In the movie, Fei Fei, the main character, is a child who is dealing with the loss of her mother. Her father meets a woman with a son and they fall in love.
Fei Fei has difficulty accepting the new situation and she sets out on an adventure, looking for Chang, the Chinese goddess of the moon, who her mother told her about before her death.
Fei Fei finds the closeness she is looking for with her mother's memory and makes peace with the new family situation.
This is an absolutely beautiful movie with culturally significant themes woven throughout.
Emotions & feelings that Over the Moon explores:
Sadness
Acceptance
Peace
Courage
Resentment
These movies provide so many opportunities to talk with your children about emotions.
Do you have any movies you think should be on this list?