If you love the hit kids' show Tumble Leaf and are looking for more shows just like it, you've come to the right place.
If Tumble Leaf is just your child's speed and they enjoy it, they'll likely enjoy the 6 shows in this article, as well.
---
Screen time has its benefits and even families who limit screen time admit to this.
For those times when you choose to allow a little screen time, it's nice to have a list of shows that aren't too overstimulating – shows that are gentle, positive, and educational.
Tumble Leaf is a great show, and, luckily, there are some other shows out there that are similar in many ways.
Let's get to it.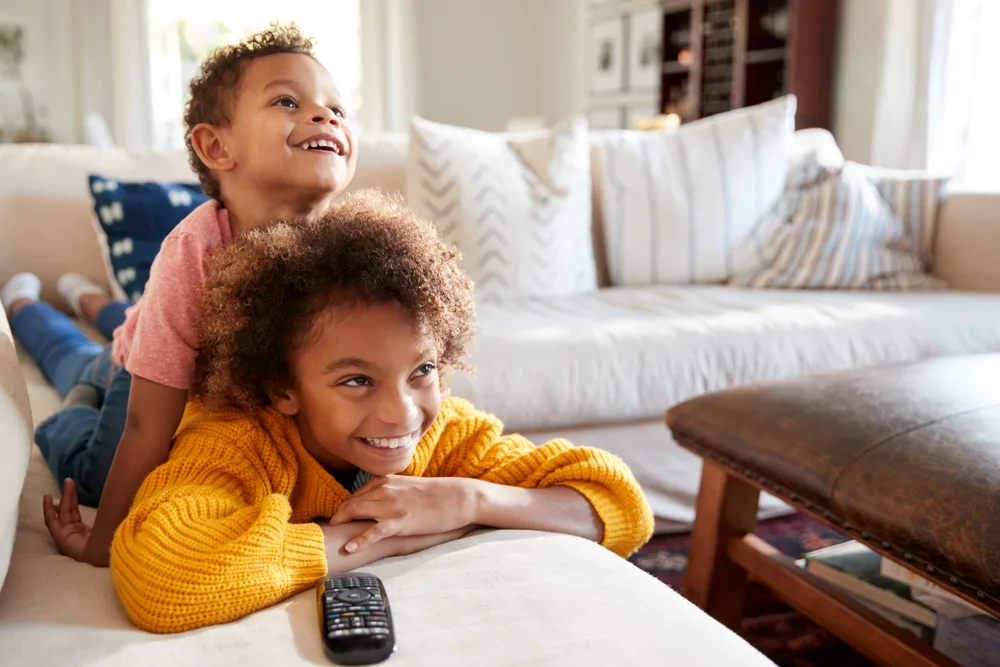 What is so great about Tumble Leaf?
Tumble Leaf is one of the most popular TV shows for younger children, specifically toddlers.
It's a kids' show where there are no "bad guys" or other things that toddlers and preschoolers might find scary.
Instead, the characters encounter challenges and work together to figure out how to overcome them.
The themes and content in each and every episode are positive and tend to not encourage untoward behaviors in young children according to parents.
Some other things parents love about Tumble Leaf:
Overall, Tumble Leaf is a highly rated show that gets the "thumbs up" from kids, too – it's quite engaging.
6 great shows like Tumble Leaf
Little Einsteins
Little Einsteins is a fun, classical music-themed kids' show. The characters of the show encounter a problem in each episode and work together, using music, to solve the problem.
It's slow-paced, engaging, and educational. If you like Tumble Leaf for your toddler or preschooler, you'll be happy with Little Einsteins, as well.
Where to watch: Little Einsteins still plays on Disney Jr. and full episodes can be found on YouTube, as well.
Paddington
The Adventures of Paddington is easily one of the most beloved children's shows.
It checks almost every box in its comparison to Tumble Leaf, save the type of animation.
This is a very gentle, positive show that is geared toward toddlers and younger preschoolers.
Where to watch: Paddington can be found on YouTube and on Amazon Prime Video.
Puffin Rock
If you haven't checked out Puffin Rock, watch the video below and you'll see right away that it's on the same wavelength as Tumble Leaf.
From the animation to the narration, this is a quality show, through and through.
Where to watch: Puffin Rock can be found on
Trash Truck
Trash Truck is a gentle, slow-paced show, much like Tumble Leaf.
This show is light-hearted, a little bit humorous, gentle, and positive in its themes.
If you've got a toddler or preschooler that enjoys cars, trucks, and other vehicles, and they also love Tumble Leaf, Trash Truck is a great option for them.
Where to watch: Trash Truck can be found on Netflix.
Classic Thomas & Friends
Thomas and Friends (the one narrated by Ringo Starr) is a fun and gentle show for toddlers and preschoolers.
It uses stop-motion animation, just like Tumble Leaf, as well as live-action scenes with toy trains.
The episodes all have lessons in them and there are no scary scenes or characters.
Where to watch: The Classic episodes of Thomas and Friends can be found on Amazon Prime Video, as well as on YouTube.
Train Town is an adorable little show on Youtube. It's shot with the same stop-motion animation as Tumble Leaf.
The episodes are short, about the same length as Bluey episodes.
This makes it a nice, slow-paced show for those occasions when you need your toddler to be fully engaged with a video for a short interval.
This is actually a great little show that can spark imaginative play with wooden train sets, as well.
Where to watch: Train Town can be watched on YouTube.
Other shows that are similar to Tumble Leaf
When you're looking for shows that are similar to Tumble Leaf, you need to ask yourself what it is about Tumble Leaf that you like so much.
Is it the pace of the show? The type of animation? The content?
The above list is a great place to start in your search. Each of the shows I included are in the same vein as Tumble Leaf.
They are all slow-paced and have easy-to-follow storylines and gentle themes.
If you're interested specifically in stop motion animation, I recommend checking out some older shows on Prime Video (like from the 80s) or searching YouTube for stop animation kids' shows.
Here are a few that I found:
Plonsters
Shaun the Sheep
Postman Pat
---
We hope this has been a helpful resource for you.
Are there any shows like Tumble Leaf that you feel should be on this list?
Drop us a comment and let us know.