We're here to talk about the popular kids' TV show, Bluey. There's so much to say about this unique Australian cartoon.
We'll get into why this show is so popular and learn a little bit about the show's themes, its characters, and whether or not this show lives up to the hype.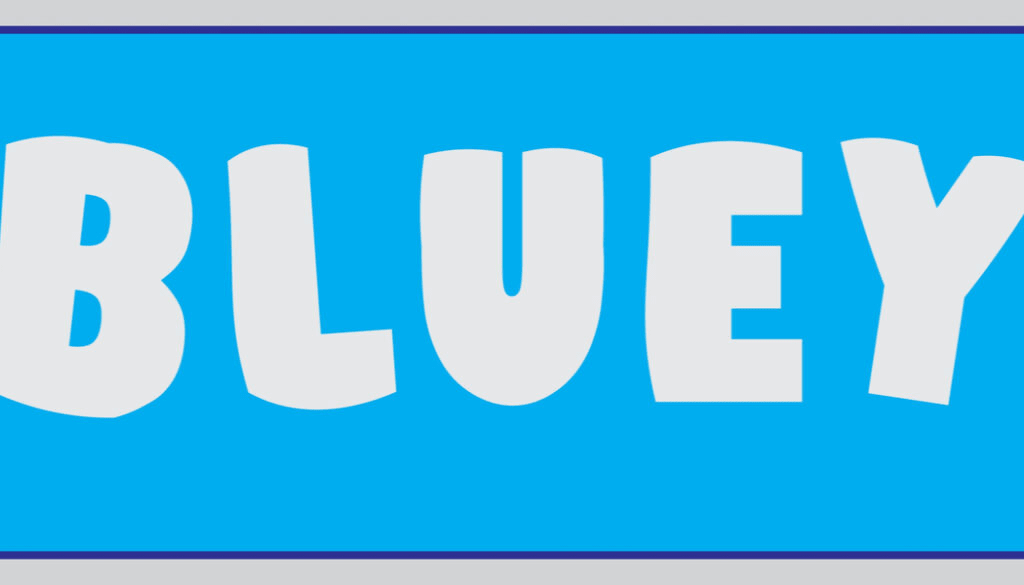 What is Bluey?
Bluey is a children's television cartoon. The main character is a 6-year-old Blue Heeler, named Bluey.
She lives at home with her parents, Bandit (the dad) and Chilli ( the mom), and a little sister Blue Heeler named Bingo.
This slow-paced toddler cartoon comes from Australia and is gaining popularity all over the globe, thanks to its presence on popular streaming services.
Why is Bluey so popular?
If you are wondering what the fuss is about this award-winning show, we encourage you to sit and watch an episode for yourself.
Bluey has as many learning experiences for parents as it has for kids, too. And unlike some of the other parents in kids' cartoons, Bandit and Chilli are imperfect – that's right, they make mistakes and learn as they go, just like real parents.
Another thing people enjoy about Bluey is that the show defies gender stereotypes. This is so true, in fact, that if you weren't told within the episodes the genders of the characters, you might not know that Bluey was a girl or which parent was which.
The show explores important and sometimes difficult-to-discuss themes by way of imaginative play scenarios.
Bluey explores themes such as:
the powerlessness children often feel
jealousy
fear
sadness
feeling left out
learning to speak up for one's self
competitive parenting (the show has lots for parents to learn, too!)
Bluey is a toddler TV show that is widely embraced by the gentle parenting community and even has its fair share of support from Montessori caregivers, despite its strong focus on imaginative play and the fact that the show features talking animals.
The positive reviews of the social-emotional learning the show provides overshadow the negative opinions on the show – and yes, there are people who don't like Bluey for their children.
Why do some parents have a problem with Bluey?
After reading about the wonderful themes of Bluey and the wide praise it receives, you might be wondering why some people don't like it.
Here are the top reasons parents and caregivers cite for not allowing their child to watch Bluey.
Slapstick comedy
There is a small amount of slapstick comedy in the show, however, it's often tied to lessons on gentleness and kindness.
Still, some caregivers choose not to expose their toddlers and preschoolers to this type of TV at all.
The parents play with the kids..a lot
This is a real complaint from parents and is often cited as a reason people do not allow their children to watch Bluey.
Many parents do not have the time or energy Bluey's parents have and they worry that their children will expect an increased level of engagement after watching the show.
This might seem like a ridiculous reason to not allow a child to watch a TV show, however, for busy parents or parents with a laid-back parenting style, it's reason enough.
The kids act like kids
A complaint some caregivers have about the show is the behavior of Bluey, Bingo, and the other kids. Parents worry their children will copy what they see on the show and start displaying some untoward behaviors.
Is this a valid concern?
For some children, yes. However, the show provides a realistic (apart from the whole talking dogs thing) representation of normal childhood behaviors, which can provide opportunities to talk to young children about kind vs unkind behaviors and how to better handle various situations.
Where can I watch Bluey?
If you are wondering where you can watch Bluey, you will be happy to learn that streaming is now available on Disney Plus in the U.S.
If you have cable television, you can find Bluey on the Disney Channel in the U.S.
You can also watch Bluey episodes on the BBC website.
---
If you read all of this and still can't figure out why Bluey is so popular, we recommend giving an episode or two a watch.
If you're concerned that it might now be a good show for your child, you can always watch one of the episodes on your own first. (You might find yourself watching an episode or two more than you anticipated as we did!)
If you've seen Bluey before and you've already got an opinion on it, feel free to share it in a comment below!
What do you love about it? What do you not love about it? What are your favorite and least favorite episodes, and why?