If you are wondering if Tumble Leaf is a good show for kids, you've come to the right place.
In our quest to bring you quality shows for those times you choose screen time, we did a bit of Tumble Leaf Watching.
The adventures of Fig, a blue fox, and Stick, a caterpillar, drew us right in. The animation and imagery were beautiful and the storylines were intriguing.
All of this aside, though, we still had to find out if Tumble Leaf was actually a good show for kids.
Is Tumble Leaf educational? Is it slow-paced?
What age group is Tumble Leaf for?
Get these answers and more right. Let's get to it.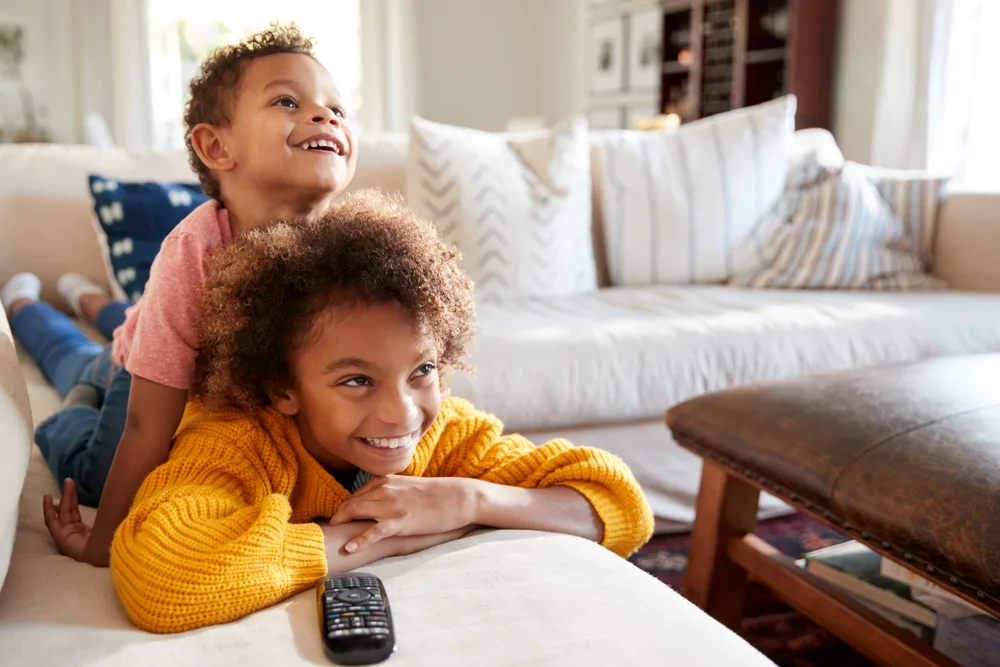 Is Tumble Leaf a good show for kids?
If you're wondering if Tumble Leaf is a good show for kids, the answer is yes, Tumble Leaf is a great show for kids.
Most parents and caregivers allow their toddlers and preschoolers to watch Tumble Leaf and have no negative reports to leave.
According to parent and caregiver comments on Common Sense Media and the Limited Screen-Time Family Group, Tumble Leaf is one of the most highly recommended toddler and preschooler TV shows.
A good show for one child may not be a good show for another child, however. Some children are more easily overstimulated than others.
Also, what one parent deems educational may not seem educational at all to another parent.
Below are a couple of main points to consider when deciding if Tumble Leaf is right for your child.
Pace of show
Tumble Leaf, while not the slowest-paced show available for streaming, is paced slow enough to where overstimulation is not generally a complaint of parents and caregivers.
The type of animation is called "stop-motion". The show shares more commonalities with a live-action puppet show than a 2-D cartoon.
As far as rapid frame changes, there are very few in each episode. Many of the frames in a Tumble Leaf episode last between 5-10 seconds.
This is much more slow-paced than a show like Cocomelon, for example, and may be less likely to overstimulate a child.
Quality of content
Tumble Leaf is a model citizen amongst kids' TV shows when it comes to the quality of the content.
Science lessons are built into each episode, as well as social-emotional lessons.
The show doesn't use scary or negative scenarios to teach kids lessons, as many other children's shows do.
Instead, the characters generally encounter a problem that needs to be solved, and they work together, using the scientific process, to figure out a solution.
It's definitely one of the better shows for sensitive children.
The overall themes of Tumble Leaf are positivity, problem-solving, and kindness.
What age is Tumble Leaf for?
Tumble Leaf is appropriate for kids between the ages of 3 and 6. Children as young as 2 may enjoy the show, as well, but the dialogue and themes of Tumble Leaf are geared toward preschool-age children.
The majority of parents on Common Sense Media said that Tumble Leaf is best suited for ages 3+.
The stop-motion animation, gentle themes, and fun characters of this show draw young kids in quite nicely.
Did Tumble Leaf get canceled?
Unfortunately, Tumble Leaf got canceled in 2019 after 4 successful seasons.
It's always a huge letdown when a great kids' TV show doesn't get renewed for more seasons.
Luckily, though, Tumble Leaf is still available for streaming on Amazon Prime Video. You can also find plenty of Tumble Leaf content on Youtube, as well.
---
What do you think about Tumble Leaf? Do you think it's a good show for kids, or is it overrated?