If you're looking for some great non-animated toddler shows, you've come to the right place. Live-action shows are my go-to's when I opt for a little screen time for my kids.
I often choose non-animated kids' shows because I find, and research supports this, that my children have much less of a chance of becoming overstimulated by these live-action shows.
I've put together a great list for you. Some of these non-animated options are quite popular and some of them you might be hearing about for the very first time.
Let's get right to the list!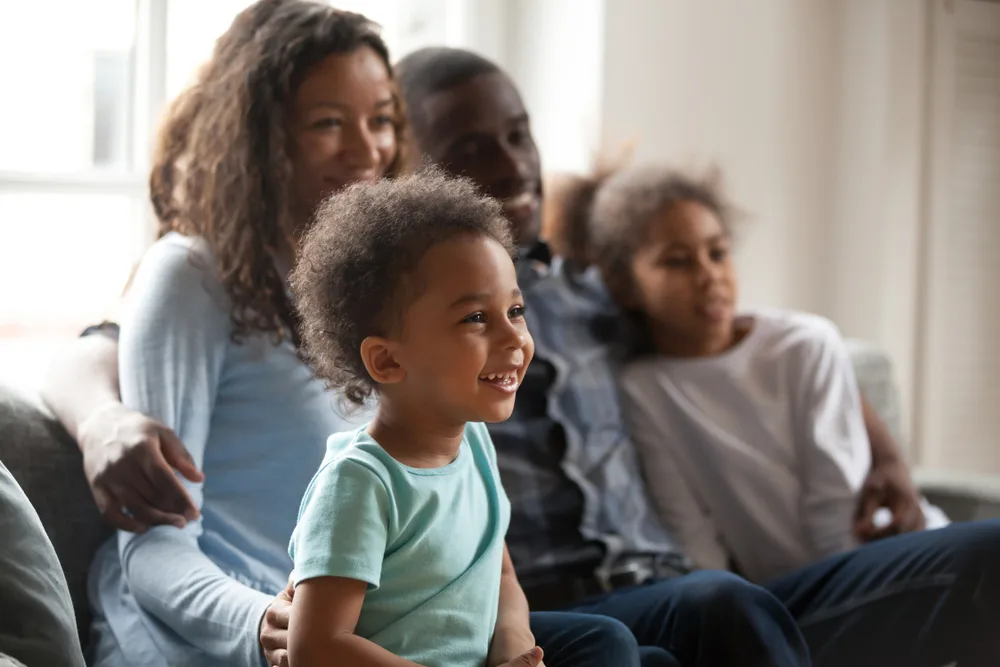 7 great non-animated toddler shows
Mister Rogers Neighborhood is about as slow-paced and wholesome as you'll find in a non-animated kids' TV show.
It's full of life lessons, fun information, and social-emotional learning.
If you're familiar with Daniel Tiger's Neighborhood, Mister Rogers is essentially the parent show of that cartoon.
Mister Rogers is not all that similar, though. The real-life scenarios and live-action puppet adventures are a bit more calming than Daniel Tiger's episodes.
If your toddler is used to cartoons, it may take a few tries to get them interested in Mister Rogers. This is a great live-action show to introduce from the very start, though.
If I Were an Animal is one of the most adorable and educational shows a parent can choose for their toddler.
Each episode features a different animal and is narrated by a child. My little ones always seem to appreciate that aspect.
Unfortunately, there's only one season of this show in existence.
If your little one loves animals, though, it's very well possible they'll request to rewatch the episodes many times.
I enjoy cooking and I love watching cooking shows. Sometimes cooking shows are too fast-moving or overly complicated for young children to follow, though.
This causes them to lose interest and become fussy.
I was delighted to find Nadiya's Time to Eat on Netflix. This is a show that I enjoy watching right along with little ones.
It's a cooking show, but the recipes are on the simple side and the steps are explained in a way that children can understand.
This is a non-animated kids' show that's so rich in descriptive language. It's always a conversation starter, too.
If your toddler has a play kitchen, they will likely spend time after watching this show preparing imaginative meals, and they'll probably want to help you cook, which is a great activity to do with toddlers.
I don't know what it is about this show, but it's been a favorite in my home for years. My sons and daughter all enjoy it.
There is a bit of animation throughout the show, but there's plenty of live-action, as well.
The main character, Gabby, speaks into the camera and she's so gentle and kind. She speaks slowly and has a warm demeanor.
I believe this is a large part of the appeal for toddlers.
Each episode features a new adventure with familiar characters.
What Sam Sees is a Disney Plus show that features a wide variety of ocean animals. It's educational and everything is presented in a really fun way.
If you've got a toddler that's interested in sea creatures like sharks and manta rays, this might be the perfect show for them.
There's plenty of new language that's introduced throughout the series and you're toddler will probably want to follow up with some books about ocean animals.
It's always exciting to find a TV show that sparks the love of learning.
If you've got a dino-loving toddler, these 2 series are sure to wow them.
The premise of these shows is that Dan & Dana (each the main characters in separate shows) are precocious elementary-age children with big imaginations.
They go on adventures with the dinosaurs they imagine, all while problem-solving and testing hypotheses.
Obviously, most of this dialogue will go over a toddler's head.
Still, it's a good, wholesome show that toddlers will find entertaining.
Classic Sesame Street Episodes
The old Sesame Street episodes from the '70s and '80s are so amazing for toddlers.
Unlike the newer episodes, there are less animation, less rapid scene changes, and they are less likely to overstimulate screen-sensitive children.
The newer episodes aren't all bad – they feature important new characters and teach children important lessons.
For young toddlers, though, many parents agree that the new Sesame Street episodes are too overstimulating.
---
These are our top 7 picks for non-animated shows for toddlers.
What non-animated shows does your toddler enjoy?