If you're looking for some great dinosaur shows for kids, you've certainly come to the right pace.
All of my children love dinosaurs, but one, in particular, has always had an intense interest in them.
We've spent the last few years checking out dinosaur books, amassing a collection of dinosaur figurines, and, of course, checking out what types of dinosaur shows are available for kids.
Some of the dinosaur shows on this list are geared toward toddlers, while others are best suited for preschoolers, elementary-age kids, and older children.
As a parent who limits my child's screen time, I make a point to see to it that the content my kids view is quality.
I put together this list of dinosaur shows for kids to help parents easily find quality shows that feature or teach about dinosaurs.
Some of these shows are highly educational, while others provide simple dinosaur-related entertainment, which is totally fine.
So, let's get to it!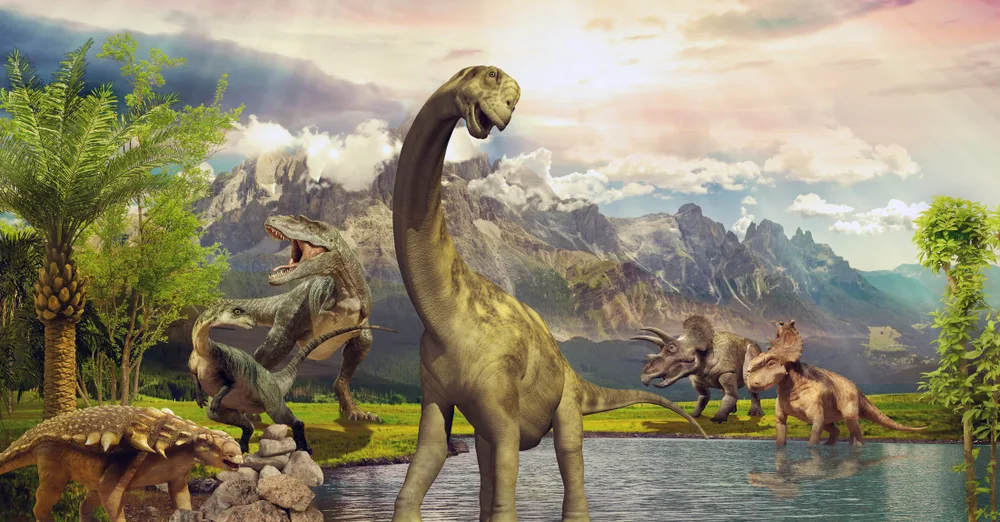 The 9 best dinosaur shows for kids
Dino Dana is an Amazon original show that features a bright and curious elementary-age named Dana.
Dana has an intense fascination with dinosaurs and the ability to imagine them into real-life situations, where plenty of dinosaur-related education happens.
Along with dinosaur facts, Dana learns life lessons, as well.
We love Dino Dana. It's a great show for its feature of a female protagonist in a male-dominated genre, as well.
The realistic images in Dino Dana could be scary for sensitive children.
So, I recommend that parents and caregivers watch a bit of the show ahead of time to see if it's appropriate for their child.
Dino Dan is another Amazon original TV show about a curious and precocious child that loves dinosaurs.
This show, however, has a young boy as its lead character.
It's equally as educational and entertaining.
Just as with Dino Dana, parents and caregivers should view the show ahead of time to make sure it's right for their sensitive child.
Gigantosaurous is a fun dinosaur show that can be found on Disney+ and Netflix.
This show features a group of young dinosaurs that go exploring, engage in problem-solving, and learn about teamwork and other social-emotional themes.
Unlike the previous entries on this list, this is an animated show that's highly entertaining, but not consistently educational.
This is a great dinosaur show for toddlers and preschoolers.
Dinosaur Train holds a special place in the hearts of millions of parents all over the world.
This show has been a favorite of toddlers and preschoolers for nearly 15 years.
Dinosaur Train follows 4 young dinosaurs as they go on adventures and learn about dinosaurs, friendship, and family.
This is a highly educational dinosaur show for kids.
Some parents and caregivers might find this show too fast-paced. So, you should watch a bit of it ahead of time to see if it's right for your family.
Dino the Dinosaur is exactly a TV show – it's a dinosaur for young kids that can be found on Netflix.
This is a very simple, slow-paced animated production that's geared toward babies, toddlers, and preschoolers.
This show has nothing to do with dinosaurs, though the main character, Dino, is a young triceratops.
This is an educational show that aims to teach kids colors, shapes, and other concepts that very young children enjoy learning.
Dinosaur Planet is a really unique and educational show on the Discovery Channel.
It takes kids on a trip to prehistoric times, following a young dinosaur and his siblings as they live out their daily lives.
The computer-animated dinosaurs look very realistic and the scenarios are based on research about how different dinosaurs likely lived and interacted.
Like most of the shows on this list, it's best that parents check the show out first to make sure it's not too scary for the child.
Camp Cretaceous is a fun dinosaur show that's geared toward older elementary-age children.
The show follows a group of tweens as they exist in a dinosaur-filled summer camp and have intense adventures and challenges related to friendship.
This is not a show for kids who want to learn about dinosaurs, as it's not educational at all.
The storylines are engaging and enjoyable, however.
LEGO Jurassic World is a really fun, entertaining dinosaur show for kids.
If I'm being completely honest, I really enjoy this one, too.
This is an enjoyable and funny cartoon that features LEGO characters and dinosaurs.
There isn't any dinosaur learning in this show, but it's fun and light-hearted.
Very enjoyable.
Planet Dinosaur is a favorite in our home. We've seen each episode countless times.
This documentary-style dinosaur show takes kids back hundreds of millions of years to learn about how dinosaurs lived.
Everything in the show is based on scientific research, which makes this show great for kids that have a thirst for knowledge.
This show is graphic and has realistic depictions of dinosaurs.
So, parents and caregivers should be warned that this might not be the best show for sensitive children.
There you have it – 9 awesome dinosaur shows for kids.
Is your favorite dinosaur show on this list?
If not, leave a comment below and tell everyone about it.
What is it called? Where can you watch it? What do enjoy about it?
We'd love to hear from you!