Managing older siblings while breastfeeding can be a huge challenge for parents and caregivers of newborns. Avoiding TV for your toddler while nursing a newborn is totally possible, though, if you've got the right activities planned.
Get tips, tricks, and activities for keeping your toddler entertained while nursing your newborn right here.
Let's get right to it.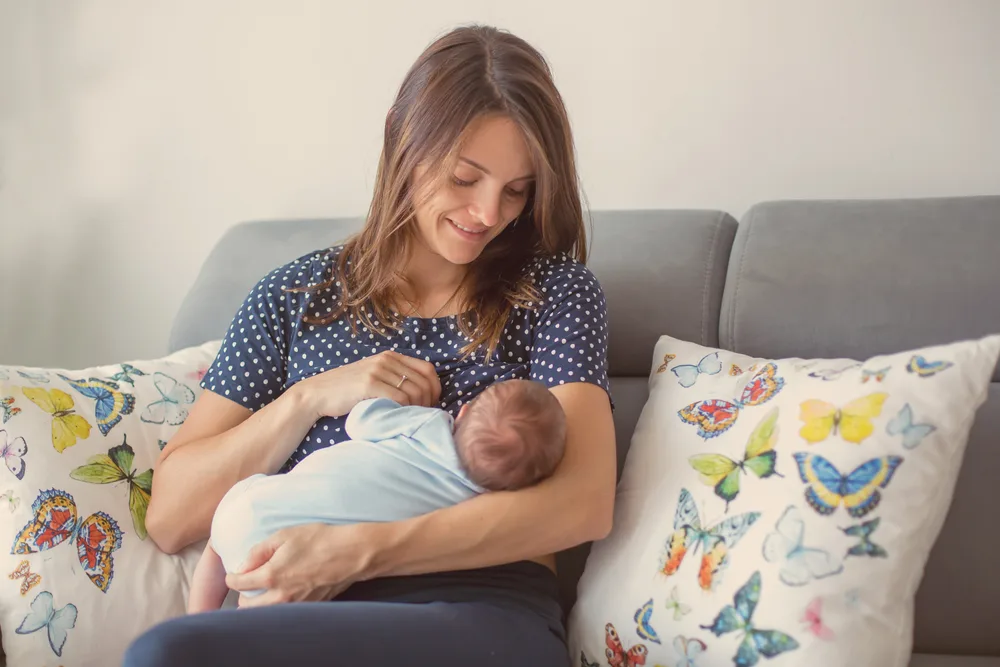 (This post contains affiliate links. Purchasing from these links costs you nothing extra, but helps with our website upkeep.)
Breastfeeding a newborn with a toddler
Breastfeeding comes with a lot of challenges for many people. Caring for a toddler can be quite a challenge, too.
Doing both of these things at the same time is one of the most difficult daily (multiple times a day, mind you) activities parents of multiple young children face.
We're tasked with keeping the newborn fed while she's being distracted by the toddler, and with keeping the toddler safe while we're distracted by the newborn.
It can be overwhelming sometimes.
Activities for your toddler while you're nursing your newborn
The toddler activities you choose to give your child while you're nursing your newborn depend on the age of your toddler, the temperament of both of the children, and the needs of the specific situation of the nursing session.
Nursing box (Breastfeeding box)
A nursing box, also called a breastfeeding box, is one of the most popular ways to keep your toddler occupied while you breastfeed your new baby.
A nursing box is a box (or basket, it doesn't matter) filled with a variety of toys with which your child is interested.
The idea of this box or basket is that you only bring it out when you are nursing the new baby.
Since your toddler enjoys these toys but doesn't get to play with them all the time, they will be interested in playing with them for the duration of the nursing session.
You can also purchase new toys, specifically for the nursing box, but it's not completely necessary.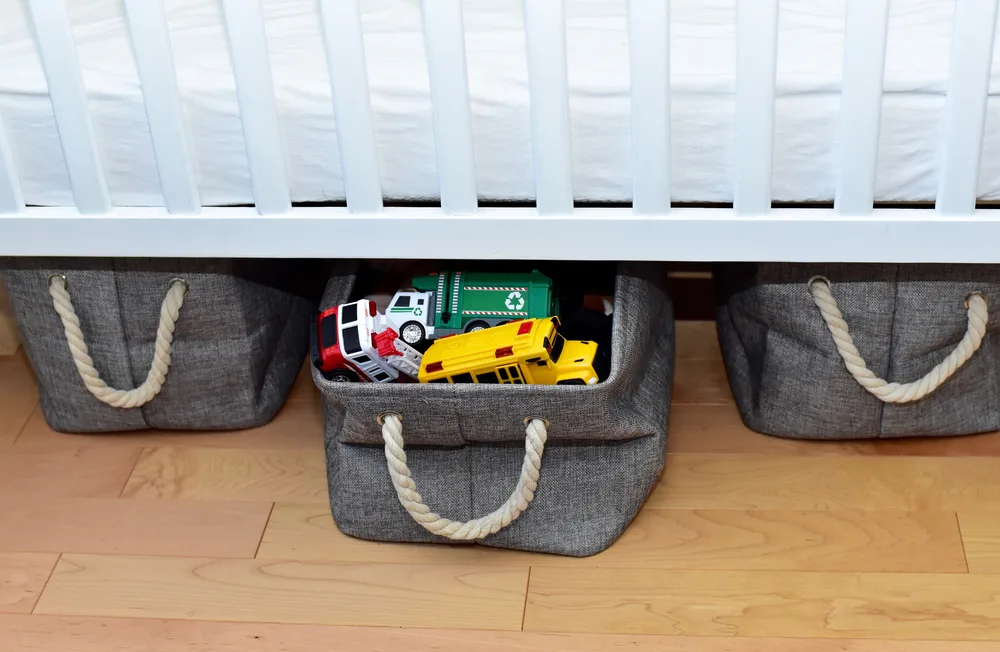 If you aren't hip to the screen-replacing, toddler-entertaining powers of the Tonibox, I highly recommend looking into it.
The Yoto and Tonibox are both screen-free music players that kids can use easily on their own.
Toddlers can choose the music and stories they want to listen to, and they can take their music player around the house and listen wherever they choose.
I broke down the differences between the 2 devices here.
Reading books
Reading books with my toddlers while I was nursing my newborns was one of the easiest and most relaxing activities for all of us.
Newborns often find the sound of their mother's voice soothing, as do toddlers, and it's something that can be done in a comfortable spot, like on the couch.
It's a great idea to pick out some calming books that your toddler likes to keep near your designated nursing spot.
Ideally, you want books that don't elicit a loud, excited reaction from your toddler, just in case your newborn decides on a nap after their meal.
Floor activities
Sitting on the floor while you're nursing isn't the most appealing thing for parents of new babies – it's not always super comfortable.
You can gather some pillows and blankets for comfort and set out some fun floor activities for your toddler.
Your toddler may want to play on their own or they'll ask you to play with them.
If they ask you, you'll be right there on the floor, ready.
puzzles (Melissa and Doug has good contained puzzles)
Sensory play
Setting up some sensory play activities for your toddler is a great way to keep them busy while you're breastfeeding your new baby.
Sensory play can take place at a sensory table in the form of digging dinosaurs out of layers of rice.
Sensory play can also take the form of letting your toddler wash their toys in a mixing bowl filled with warm water or setting your toddler up with supplies for a messy art project.
When considering sensory play as an option, of course, you want to weigh in the extra cleaning you'll have to do afterward.
Outdoor time
Outdoor play is essential for young kids, and many parents have observed that their children actually play independently, and for longer periods of time, when they're outside.
Next nursing session, if it's a safe option, try sitting outside with your newborn while your toddler plays. You may find that your toddler is happy to play on their own.
Covering your new baby with a light muslin blanket to keep the sun off them and to keep them from getting distracted is a great idea if you decide to give your toddler outdoor time while you breastfeed.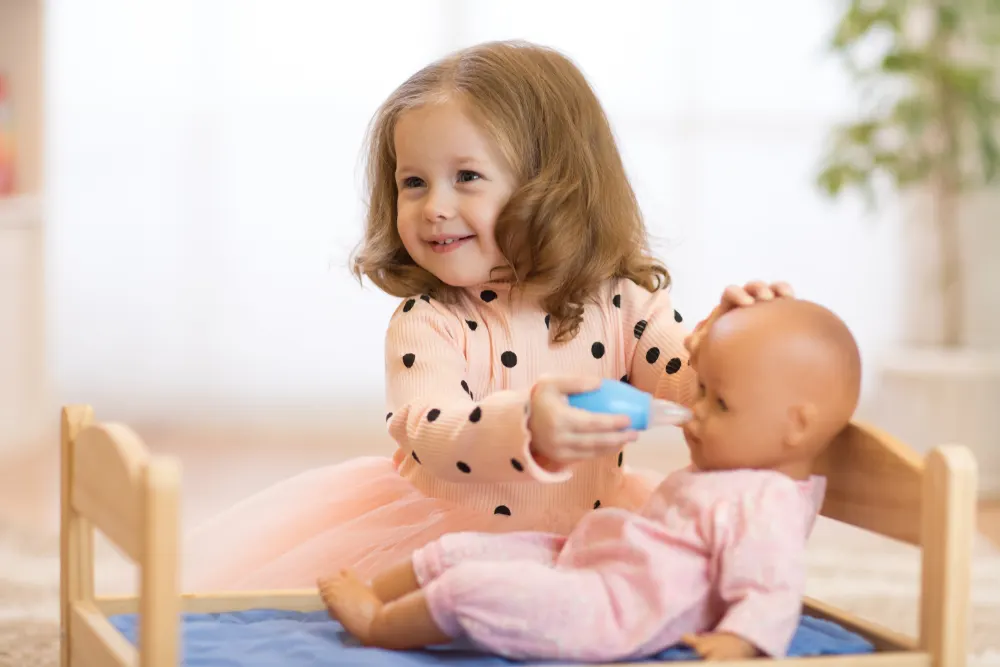 Pretend play with a baby doll
Toddlers and preschoolers enjoy imitating adults. Giving your toddler a baby doll that they can pretend to nurse and care for is a great way to keep them busy.
It's also a great way to curb jealousy and to help your toddler feel involved in the care of the new baby.
I Spy
I Spy is a simple game that toddlers really enjoy. I'm sure you've played I Spy in the car with your toddler before.
It's just a simple, interactive game that can give you a chance to connect with your toddler, filling their proverbial love tank, while keeping them out of trouble and off screens.
You may even find that your toddler begins to look forward to their sibling's nursing sessions and that they actually request to play this game with you.
---
I hope these activity ideas help you keep your toddler busy while you're nursing your newborn.
They should at least serve as a starting point.
Every child is different and what works for one child may not work for another. Experiment a bit and find out what works best for your child, in your home.
If you do end up resorting to screen time, remember to give yourself grace – screen time does have its redeeming factors.
There are some decent toddler shows out there.