Morning can be a tricky time for parents. Whether it's the hustle and bustle of getting everyone ready for school and work or it's dealing with early wakings and fixing breakfast for the family while caring for the new baby – everyone could use some ideas for screen-free morning activities for toddlers.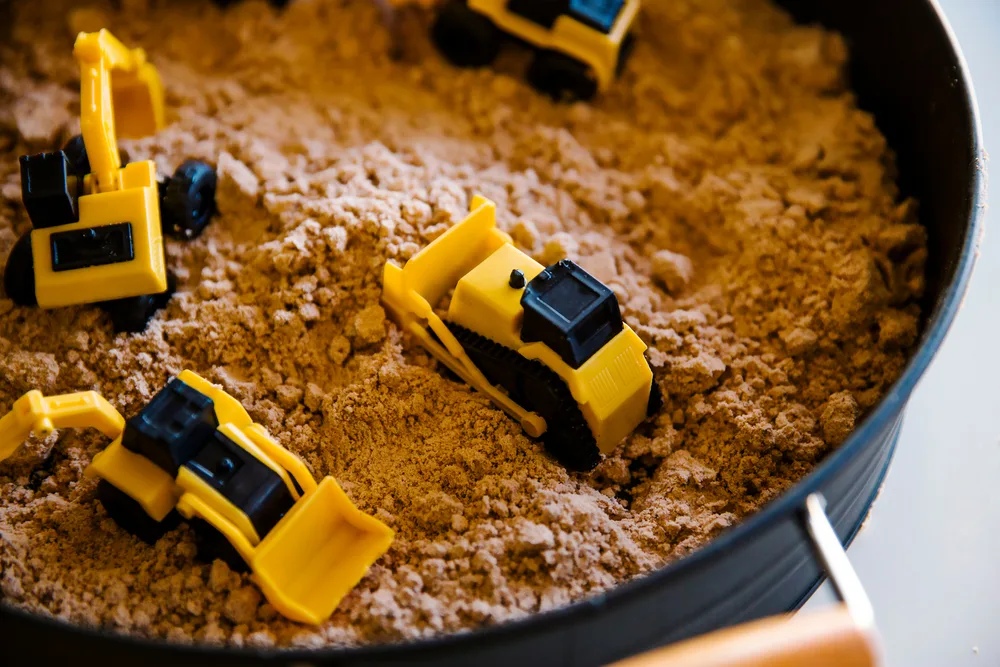 (This post contains affiliate links. Purchasing from these links costs you nothing extra, but helps with our website upkeep.)
Is it possible to have a screen-free morning routine with a toddler and/or a preschooler?
If TV has become part of your morning routine, it might seem impossible to phase it out.
The possibility of tantrums to major to manage before your first cup of coffee may be putting you off from cutting out morning screen time.
Eliminating TV from your child's morning routine doesn't have to be the nightmare you're imagining, though.
And after you've cut out the screen time, you'll probably be wondering what stopped you from doing it sooner.
We've found that cutting out our kids' morning TV cold turkey is the easiest for everyone.
There are various ways you can do this, but we found that being gentle and truthful is the best way to implement the morning screen time change.
Introducing one or more of the following activities into your family's morning routine can help comfortable replace the screen time.
7 morning activities to help keep your toddler screen-free
1. Helping with self-care
Kids don't enjoy being helpless. They love to feel useful and they get really proud of themselves when they are able to accomplish self-care tasks without our help.
Setting up some self-care stations around your house can help keep your kids occupied and working towards the goal of more independence – and less TV.
Here are a few ideas for getting your child more involved in their own care:
putting a stool in the bathroom and pre-portioning the toothpaste into their toothbrush
laying out a choice of 2 outfits for them (things that are easy for them to put on)
hang up a visual chart of what they need to do in the morning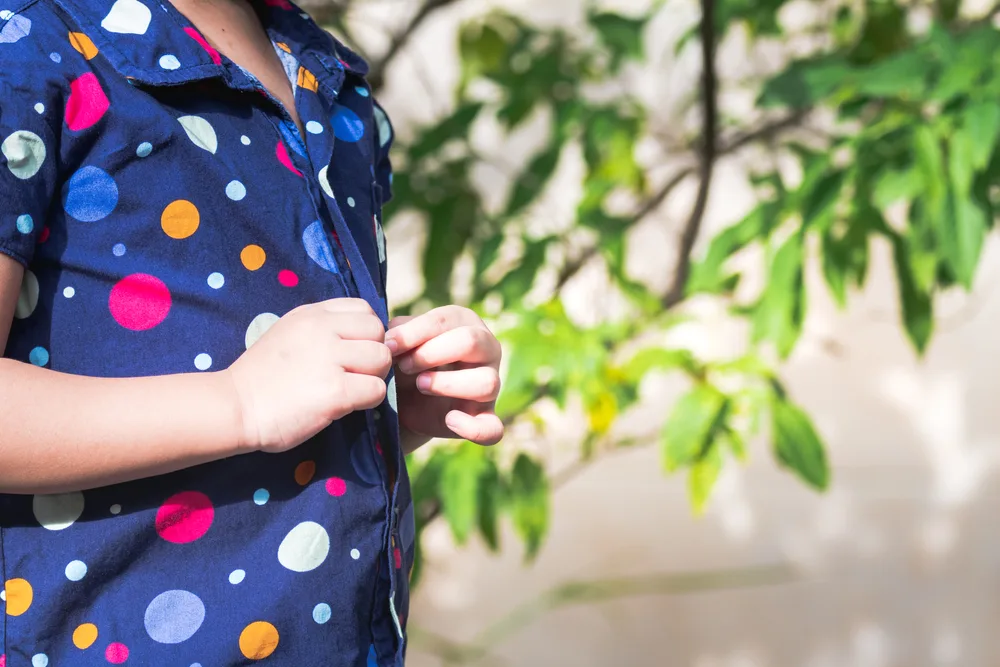 2. Helping with breakfast
Everyone in your house needs to eat in the morning, which means that breakfast needs to get made.
Involving your child in making the breakfast can keep them out of trouble and
Even if helping means spreading butter on a piece of toast, your child will enjoy it.
If you are not keen on involving your child in helping to make the morning's breakfast, there are plenty of other mock cooking activities that will help keep your toddler busy while you cook.
Here are just a few:
kneading and rolling dough
washing potatoes with a veggie brush (real or pretend)
whisking water and baby soap to make bubbles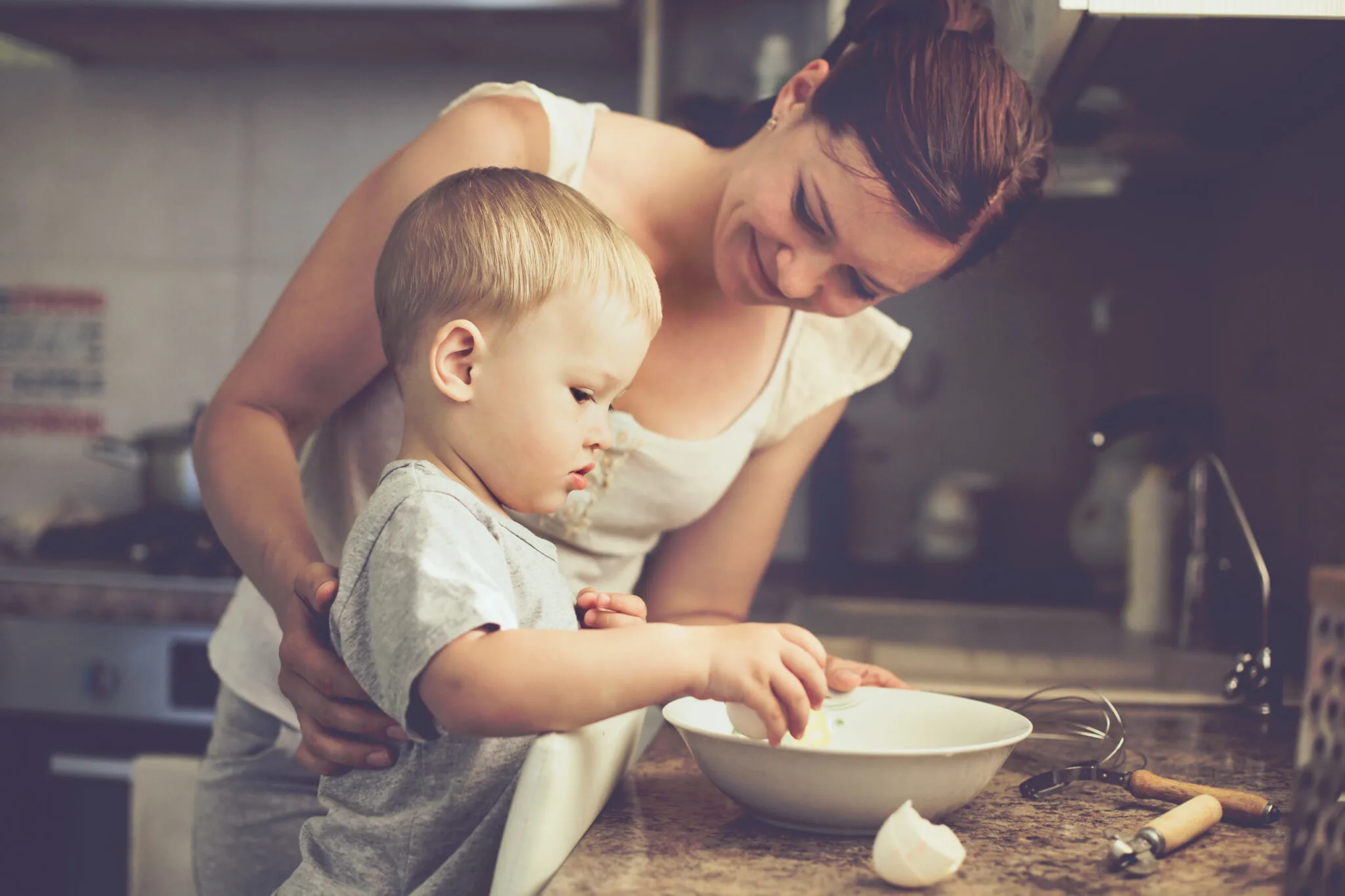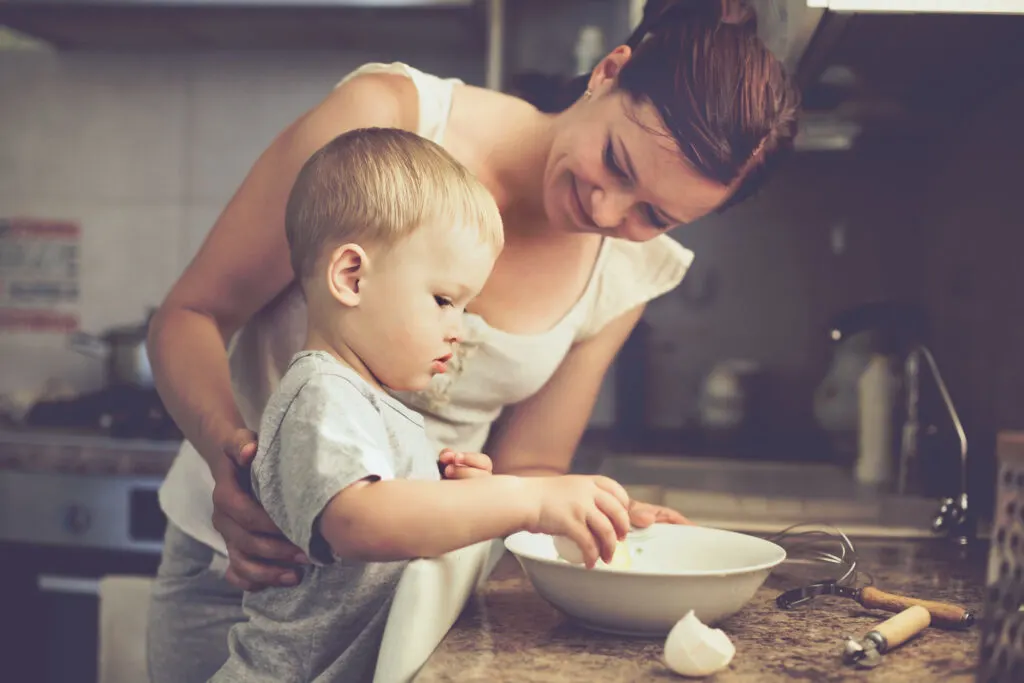 3. Audiobooks & Music
Audiobooks are a big thing in our home. Depending on the audiobook you pick, it can be calming, motivating, engaging, ect.
My children like to listen to audiobooks in the background while they get dressed and have their morning meal.
A fun way my kids enjoy listening to music and audio stories is on their Toniebox. They like the fun characters that come with the box and they like that they can bring it around the house with them.
4. Invitations to play
One of my favorite things to do to keep our mornings free of TV (and whining) is setting up what's called an Invitation to Play.
These set-ups are a Reggio Emilia idea. Essentially, you set up a collection of natural items, props, and loose parts in an inviting way.
You can read more about Invitations to Play here. I'm not always great at coming up with my own ideas for these set-ups, but I've found lots of ideas on Pinterest over the years.
When you get the hang of setting up these morning activities for toddlers, you and your kids will start to look forward to them.
5. Sensory bins
I know what you might be thinking. Nobody wants to start the day cleaning a gallon of colored rice off the floor.
Of course, you are welcome to use rice, corn, or beans in your child's sensory bin, but it's not necessary.
Here are some sensory bin ideas that are easy to set up and that don't make a huge mess.
washing toys
coin sorting
transferring water from one bowl to another by squeezing a sponge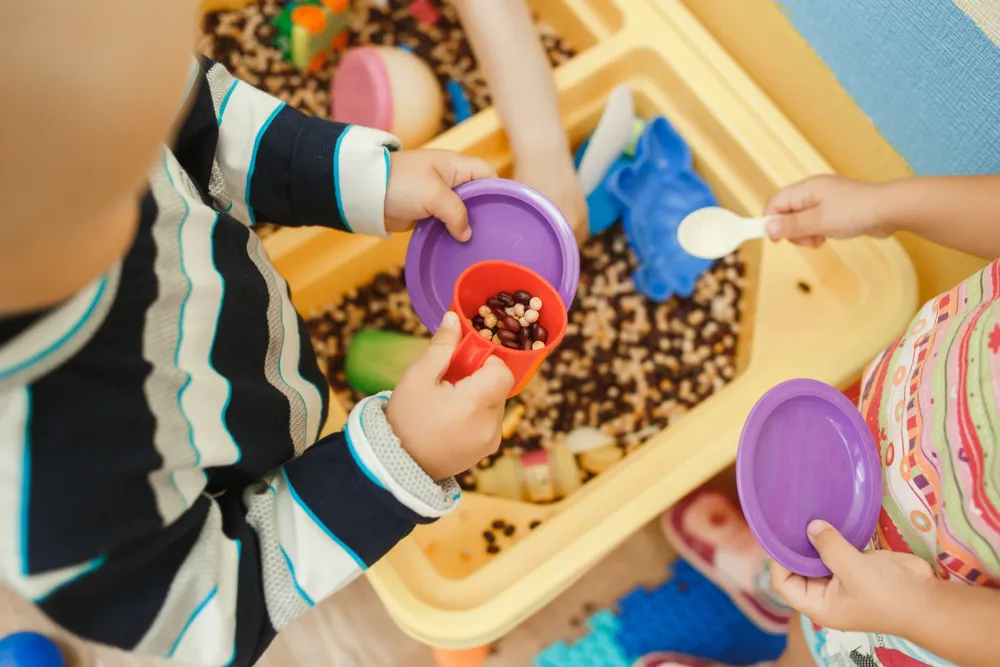 6. Tray activities
Setting up activity trays the night prior is a great way to keep your kids away from the TV in the morning.
The idea behind these morning activities for toddlers and preschoolers is to give them an achievable goal.
Tray activities are a great way to start the day, as everyone enjoys the feeling of accomplishment straight off in the morning.
Here are some ideas for tray activities:
matching keys to locks
cutting lines or shapes with scissors
sorting coins into designated cups
You want the activities to be challenging enough to be satisfying, but not so difficult that the child will become frustrated or feel defeated.
7. Art
Leaving art supplies out, neatly organized, with canvases or plain paper is a great activity to keep kids busy in the morning.
This is one of the messier toddler morning activity ideas – it's definitely better for non-school days if your kids are going to be using paints.
For our weekday mornings, our kids have access to colored pencils, crayons, markers, tape, pom-poms, beads, and lots of random loose crafting supplies.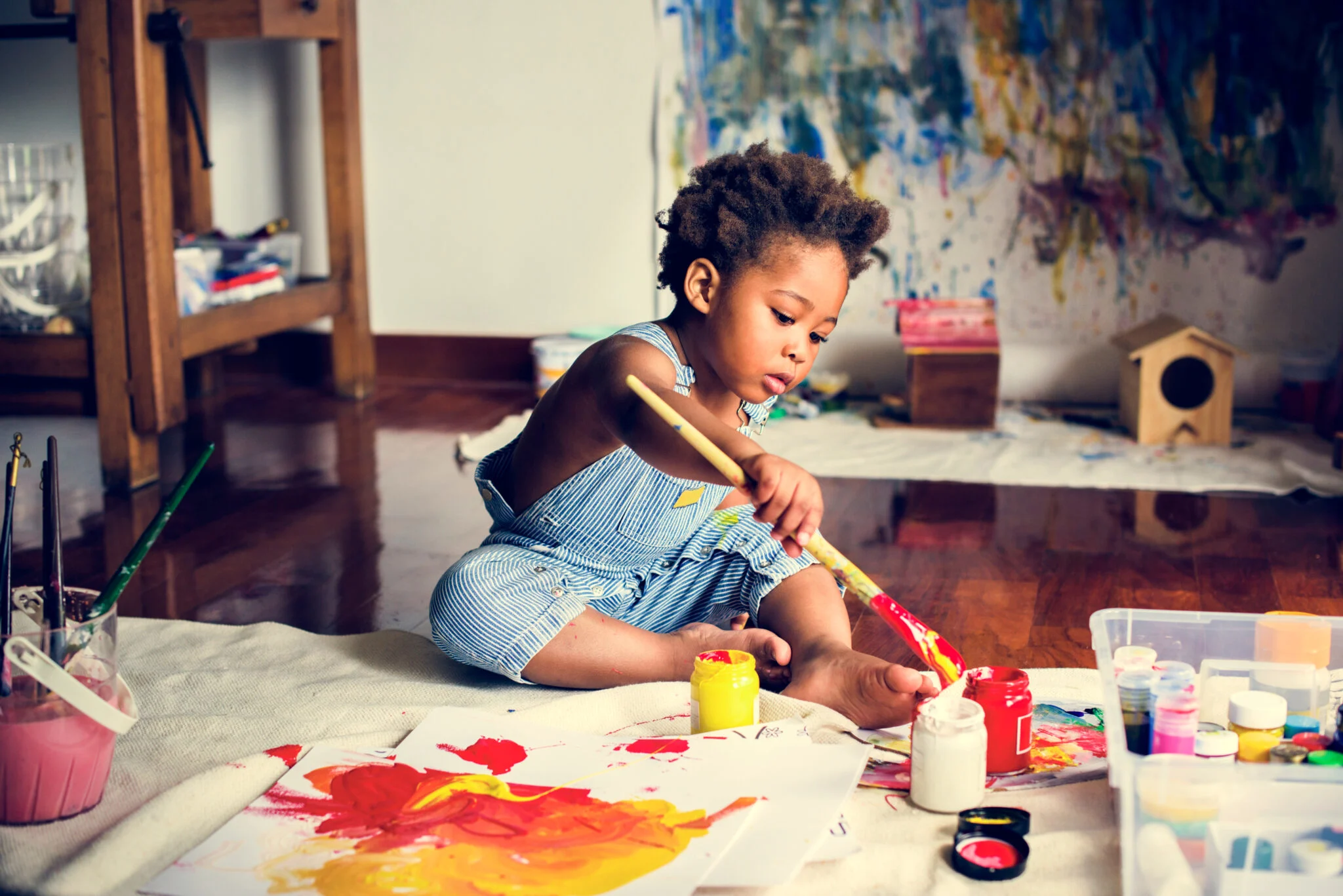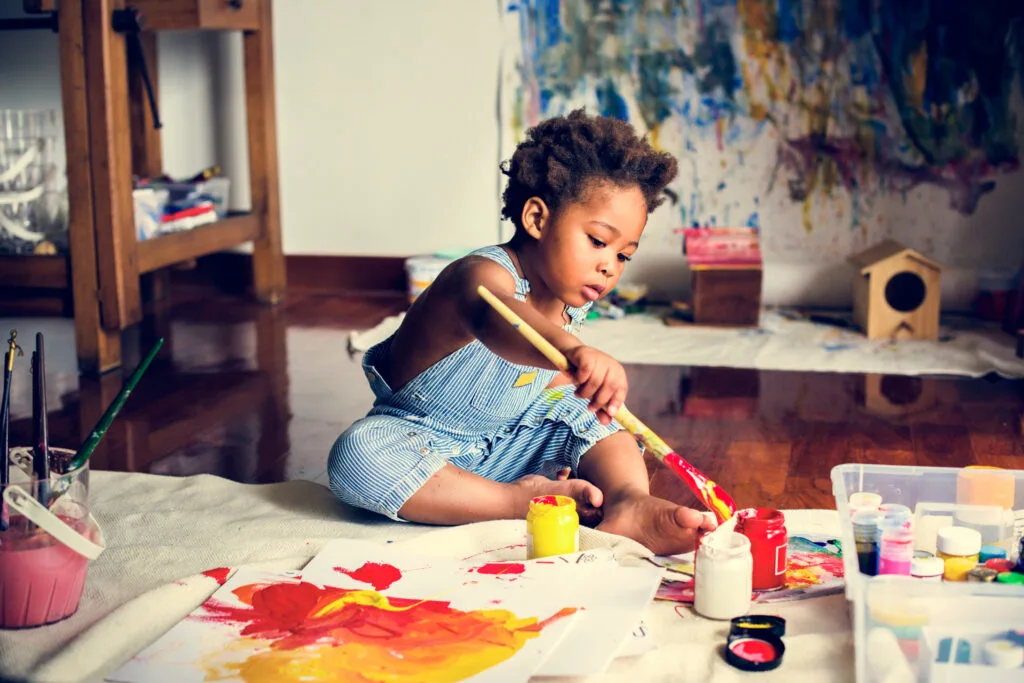 More tips & tricks to help keep toddlers busy & off screens in the morning
In addition to the 7 ideas above, here are a few other tips to help keep your mornings screen-free and running smoothly.
keep your child's play area inviting and tidy
ditch the toy box and display their toys on a shelving unit
rotate toys to keep your kids interested in them
---
I hope these morning activities for toddlers and preschoolers help to make your busy mornings run a bit smoother, without the help of screens.
In our home, we've found that starting the day without TV really helps everything run smoothly.
When we cut out TV in the morning, the whining decreased, the kids started getting ready faster, and the mornings filled with bursts of socialization and creative play.