When we think of coding toys for kids, we tend to think of programming apps and touch screen gadgets. Did you know, though, that the best coding toys for toddlers and preschoolers are actually screen-free and involve no programming at all?
It's true.
In fact, many toys that are marketed as having STEM benefits, including coding, are done so without the backing of science.
Since there is no accountability for toy manufacturers when it comes to this type of marketing, they continue to prey on both the hopes and fears of parents and caregivers.
This marketing may be contributing to the earlier-than-desirable introduction to screen-time, as well as the introduction to complicated and abstract concepts – things that are well over the head of the average toddler and impossible for them to grasp.
So, what are good toys for coding? Are any of them screen-free? Is it necessary to teach coding to toddlers and is it even possible?
Let's get some answers to these questions.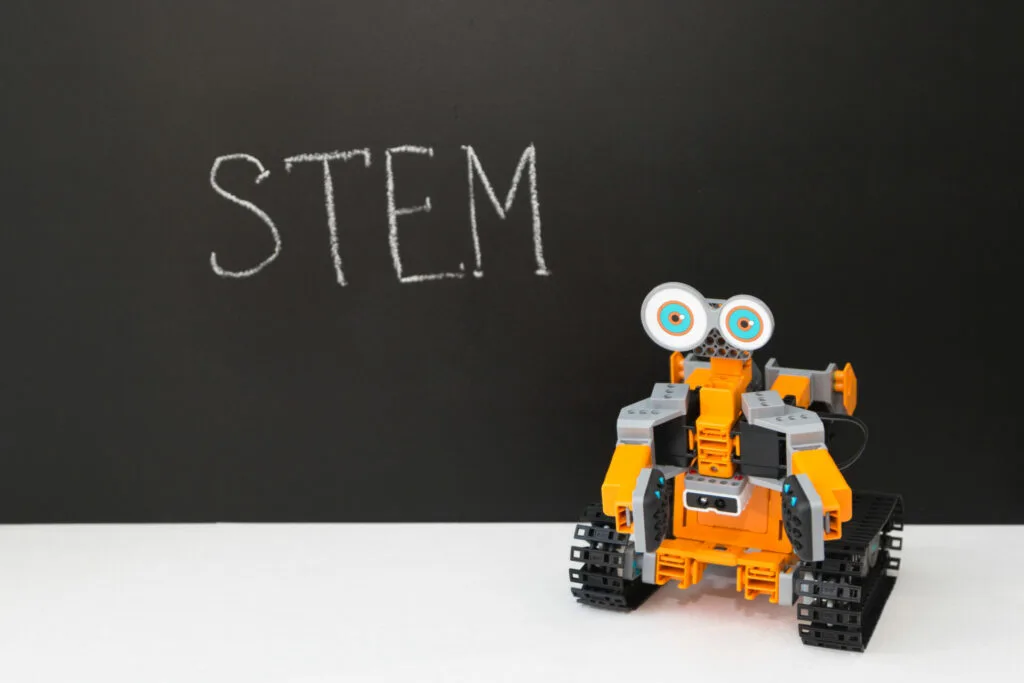 (This post contains affiliate links. Purchasing from these links costs you nothing extra, but helps with our website upkeep.)
Can toddlers & preschoolers learn to code?
Coding is an abstract concept in and of itself, so no, toddlers & preschoolers can't learn to code- not in the way you might be thinking, anyway. Concepts related to and required for coding can absolutely be introduced to young children, though.
It is possible to introduce coding concepts like sequence and loops to young children, however, there are many other adjunct programming skills that should be encouraged, as well. Some coding skills will only come with brain maturity, which cannot be rushed.
Without these other skills, no one (of any age) can learn coding.
What are these skills?
problem-solving
logical thinking (cause &effect)
abstract thinking (solving problems without physical items to manipulate)
patience
memory
pattern recognition
It's not likely that anyone with a toddler or preschooler can check every box on that list for their child.
When it comes to introducing coding, there really is no need to rush anyway. Encourage children according to their capabilities and interest.
How can I teach my toddler to code?
The best way to teach your toddler coding concepts, without introducing noisy toys or screen-time, is with simple building toys, age-appropriate robot games, and screen-free coding activities, like this one.
If you are looking for screen-free coding toys for your toddler or preschooler, you have definitely come to the right place.
Some of the toys on this list are simple things you might already have in your home and some of them are robot-centered.
I recommend introducing coding toys in the order of concrete to abstract. Kids should get experience building with their hands so they can get a good understanding of what is happening when something is programmed into a computer.
Then, later on, they can be introduced to robot-centered coding toys.
The 7 best screen-free coding toys for toddlers & preschoolers
I'm going to start strong on this list with an awesome screen-free coding toy from Learning Resources. This one is so much fun.
This toy encourages gross motor activity while teaching the basics of coding. When I think of a screen-free coding activity, this comes to mind every time.
Cause and effect, pattern building and recognition, creating loops, and so much more can be learned from building with Duplos.
The youngest of kids can gain programming skills without ever realizing it.
I am a big advocate of focusing on hands-on learning in the toddler and preschool years and introducing abstract-concept toys like robots later on.
The Cod and Go Mouse is great for older preschoolers who have mastered the pre-coding skills and are ready to see how coding looks in real life.
Pattern boards/tangrams are excellent for building coding skills in toddlers and preschoolers, as pattern recognition is critical in computer programming.
Often overlooked, colored wooden blocks are actually some of the best pre-coding STEM toys out there.
With this set of wooden blocks, toddlers learn cause and effect, problem-solving, and pattern-building – all important coding skills.
You might already be familiar with Snap Circuits, but this little set here seems to be quite the secret still for some reason.
Everyone is always surprised when I tell them that there is a Snap Circuits set that many toddlers are able to use (with supervision, of course).
This screen-free coding toy teaches young kids the basics of coding while working on fun circuit projects.
Botley is a big name in coding robots – and for a good reason. Not only is this coding robot activity completely screen-free, but it's also durable and super easy to set up.
The set comes with a series of 10 coding activities, increasing in difficulty, and is best suited for older preschoolers who have plenty of experience with the more hands-on options on this list.
There you have it – the 7 best screen-free coding toys for toddlers and preschoolers.
We like to keep lots of toys and activities in our screen-limiting arsenal and coding toys are no exception.
Enjoy!