Did you know that Amazon has some of the best water toys for toddlers and preschoolers? It's true.
When you are planning your next trip to the pool, beach, or even the front yard, and you are looking to limit screen-time one of the best tips that I always give my readers is to try and make a great memory (like playing in the pool) and make it extraordinary (like adding awesome toys).
I did a little research and found some of the best toys for you to add to your Amazon cart to kick any water activities up a notch.
Whether you are staying at a hotel with a pool, renting a house for the week, or at home in the backyard, there are so many easy ways to add in water toys to turn this vacation or summer into a fun, cherished childhood memory.
Curious to see what water toys from Amazon made the list? Keep reading….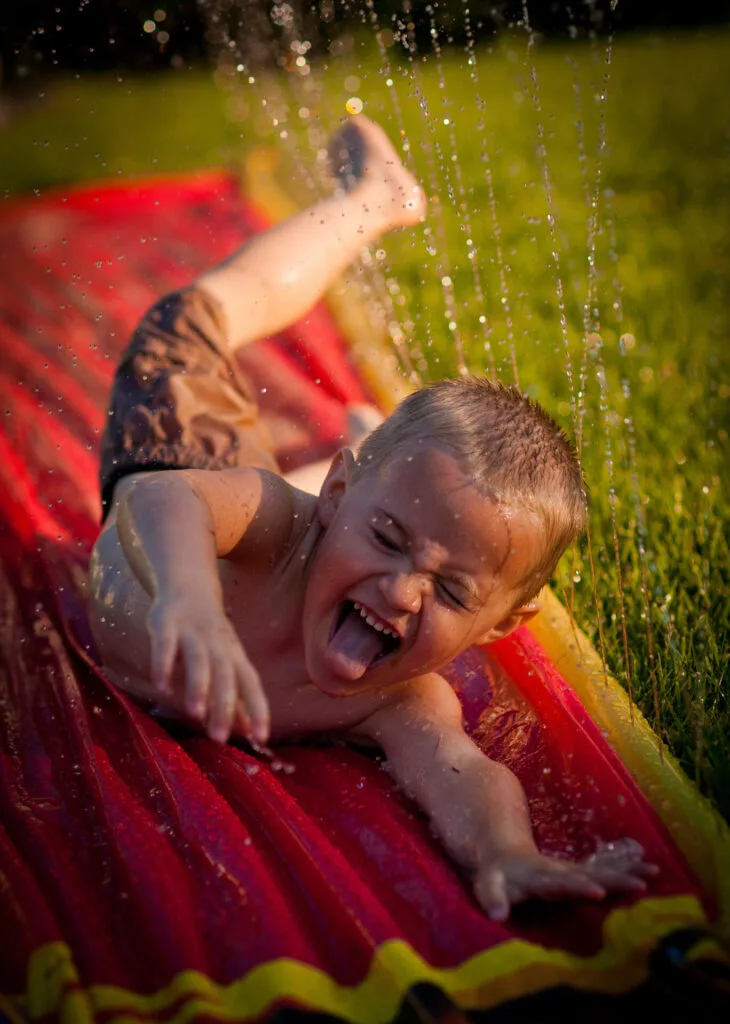 The best outdoor water toys for toddlers and preschoolers
For the Pool
When you get to enjoy the warm weather this summer, one of the best parts is going to the pool. Why not kick that excitement up a notch with a few of these toys?
Water Guns
These water guns are perfect for the whole family- especially toddlers. This pack comes with 4 water guns and can lead to hours of fun in and out of the pool. I love how they come in different colors and are perfect for chasing a kid (or 2) in the pool.
The bonus to these is that you can take these just about anywhere all summer long, like the beach or on a hike.
Water Blaster Soaker Guns
If you want to shoot water far, then this water blaster soaker gun is the toy to bring. Watch your little guy gasp in amazement while you shoot water high into the sky. These soakers are great for little hands to try out too- just make sure they know not to hit you before you hand it over!
Pool Ball
This is the perfect toy to bring to the pool on vacation because it comes compact with a ball needle to inflate once you arrive. That way, nothing pops in transit and you have a simple toy that can be used by the whole family- even little babies that love to roll balls!
Baby Pool Float Ring
This super fun pool float is the perfect addition to any pool day with a water-loving baby. Trust me, it will keep them entertained all day long. Just blow it up and let them float all day!
For the Front Yard
Plenty of families are opting for staycations this summer, which is great! If this is what you plan on doing, grab some extra water toys to entertain the family during downtime like the ones listed below.
Growsland Splash Pad
This splash pad is so fun and all you need is a hose to connect it to. If you need an activity to burn the kids' energy off before dinner, then look no further than this adorable splash pad from Growsland. It comes compact (for easy packing) then rolls out to a good-sized pad for lots and lots of play.
Slip N'Slide
Remember how much fun slip n' slides were when you were a kid? Well, I have news for you- it's still true. Slip n' slides are one of the most fun things that you can bring with you to your vacation rental and this rainbow slip n' slide is no exception. Hook it up with the hose and watch as the kids (and maybe a few grownups) have fun all afternoon.
Bonus tip- throw some dish soap on it and really watch them fly.
Big Bubbles Kit
Okay, this technically isn't a water toy, but you need water to do it and it's just so awesome that I couldn't leave it off of the list. This big bubbles kit makes gigantic bubbles and is one of the most fun ways to spend the afternoon.
Imagine, the kids are playing in the pool and you decide to set this up. You begin blowing giant bubbles over their heads as they are playing and it becomes one of their favorite memories.
This is what summer is for.
There are plenty of ways to make playing in water fun and, thanks to Amazon, we have countless toys to make it as fun as anyone could imagine. With a little planning ahead, your summer with your little ones could become amazingly epic by the simple purchase of a few of these water toys.
Trust me, it's worth it.