The LSTF team is excited to bring to you our first-ever screen-time challenge!!!
What is the Screen-Free Summer Challenge?
It's a month-long challenge where families commit to going screen-free. Support is provided by way of daily emails and daily posts within the LSTF Facebook group.
We will provide daily activity suggestions and follow along with the daily theme. The theme of this challenge is STEAM (Science, Technology, Engineering, Art, and Mathematics).
How much does this cost?
Not a single penny. We are doing this because we want to – there is no monetary motivation behind it.
What about my own screen-time? Do I have to be screen-free, too?
Whether or not you restrict your own screen-time is up to you. We understand that parents and caregivers benefit from communication with other adults.
We do, though, encourage you to put your phone down and enjoy some of the activities!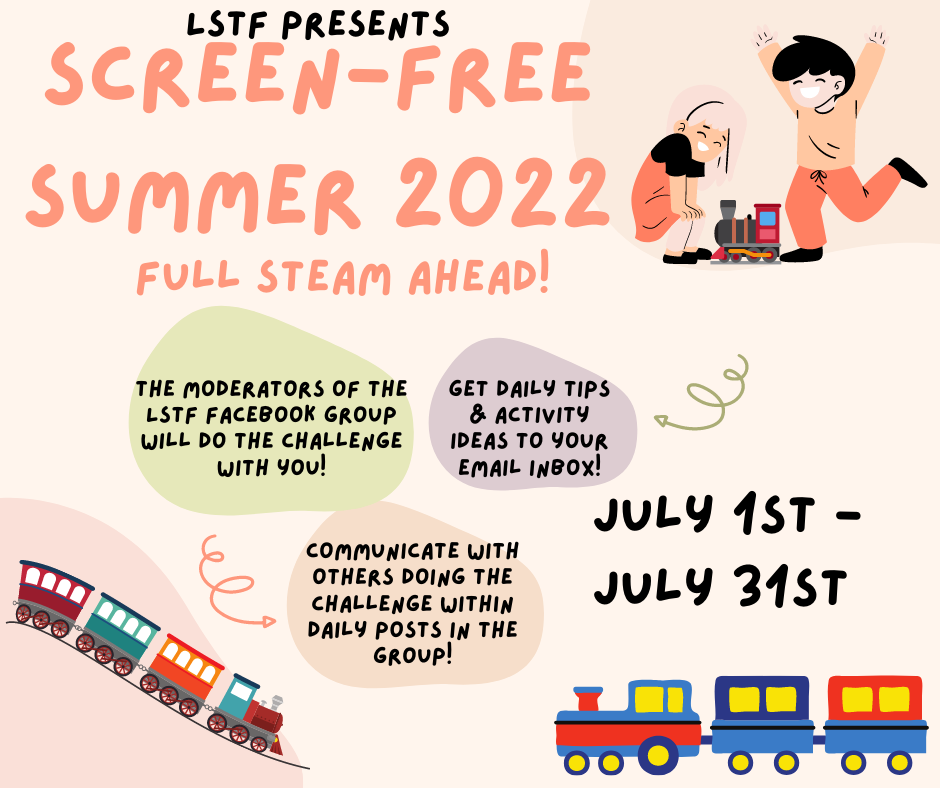 I'm not sure I can go a whole month without turning on the TV for my kids. Can I still do the challenge?
A whole month is a long time, especially if you are used to allowing a generous amount of screen-time right now. There are also those who rely on kids' shows so they can get work done or have a moment of peace.
We recognize that everyone uses screentime for different reasons and we welcome everyone to join in on this challenge, even if you are only decreasing your child's TV time by an hour each day – that amounts to 31 hours over the course of the challenge and THAT'S GREAT!
Are all the suggested activities going to be outdoors? I live in a cold or rainy climate.
We have taken into consideration that taking kids outdoors is not always an option, nor is it always desirable. In your daily activity emails and posts, you will get a variety of indoor and outdoor activity suggestions, as well as outdoor activity ideas for various climates.
If I sign up for the challenge's daily emails, will I get a bunch of spam to my inbox?
Nope. The email account you sign up at was created specifically for this challenge. After the challenge is over, that's it – no spam, no emails, nothing.
Is the LSTF admin team really going to do the screen-free challenge alongside me or is that a line of bologna?
We sure are. We've discussed it and we're all pretty jazzed about it!
July doesn't work for me. Can I have access to the challenge materials before or after July?
We won't have the materials available prior to the challenge in July, however, we are working to make them available to those who would like to do the challenge at a later date.
I'm interested! Where do I sign up?!
Right here! If you are in the Facebook group already, great! If not, be sure to join The Limited Screen-Time Family to follow along with the challenge and for daily activity ideas while you're waiting for the challenge to start!
We're hoping everyone is excited about the Screen-Free Summer 2022 Challenge as we are! See you on July 1st!