So, you have kids and you are desperately trying to avoid an all-day screen fest, but you aren't feeling up to a trip to the playground, children's museum, or library. The good news is there are so many indoor activities you can do right at home!
The even better news is that you can often create fun indoor activities for cheap or for free!
***This post contains affiliate links for those who enjoy shopping while they read. Purchasing from these links costs you nothing extra, but provides us a few pennies to keep our website afloat. And we appreciate that!***
---
A list of indoor activities you can do at home
1. Art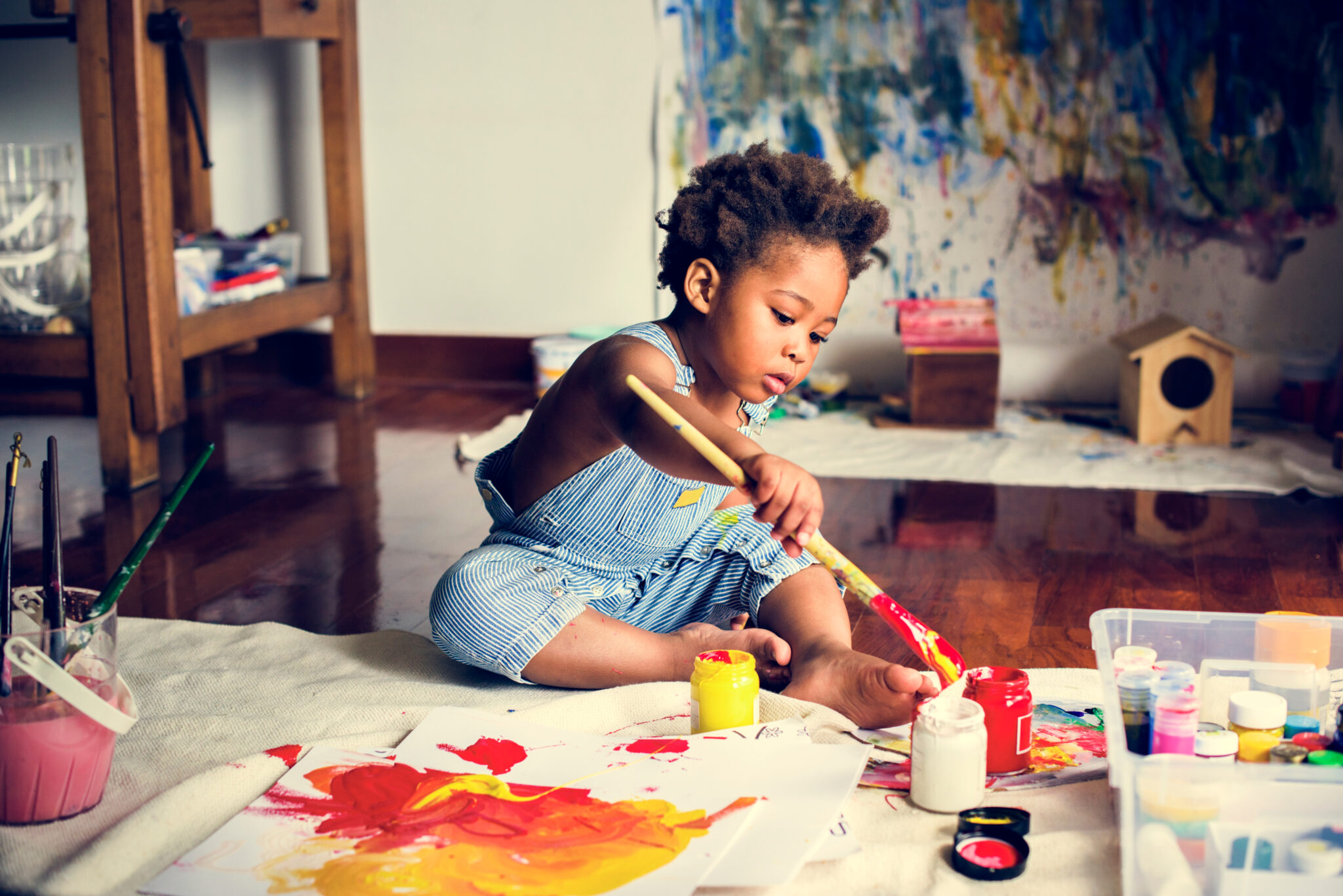 Get the paints, paper, and paintbrushes out! Lay down an old blanket and let your kids go to town!
You can give them cotton balls to paint with, pieces of sponge, or just let them create art with their fingers. Join along or let your kids come up with some creative pieces all on their own!
2. Crafting
Whether it's banging out and painting old spoons to turn into wind chimes, learning to finger crochet, or braiding bracelets for gifts, crafting can be a ton of fun. And the best part, is that it can often be done with items you already have!
Psst! Your recycling bin is a treasure trove of potential crafting items!
3. Building
Be it with blocks, Magna-tiles (our favorite), cardboard boxes, wood and nails; building things is a great indoor activity!
4. Board Games
I'm a grown up and I absolutely love playing board games. For the younger crowd, some of our favorite board game are:
5. Free Play
Most children will play on their own, given the right play space and materials.
Open-ended toys are amazing for free play. Grimm's toys tend to be on the pricey side, but they are favorites in our home.
6. Puzzles
There are so many benefits to putting together puzzles with you little ones. And there are puzzles for all age groups!
8. Hopscotch
All You need for this activity is a roll of painter's tape and a hallway!
9. Treasure Hunts
Make a list of things you have hidden and check off the items as your kids find them.
10. Cooking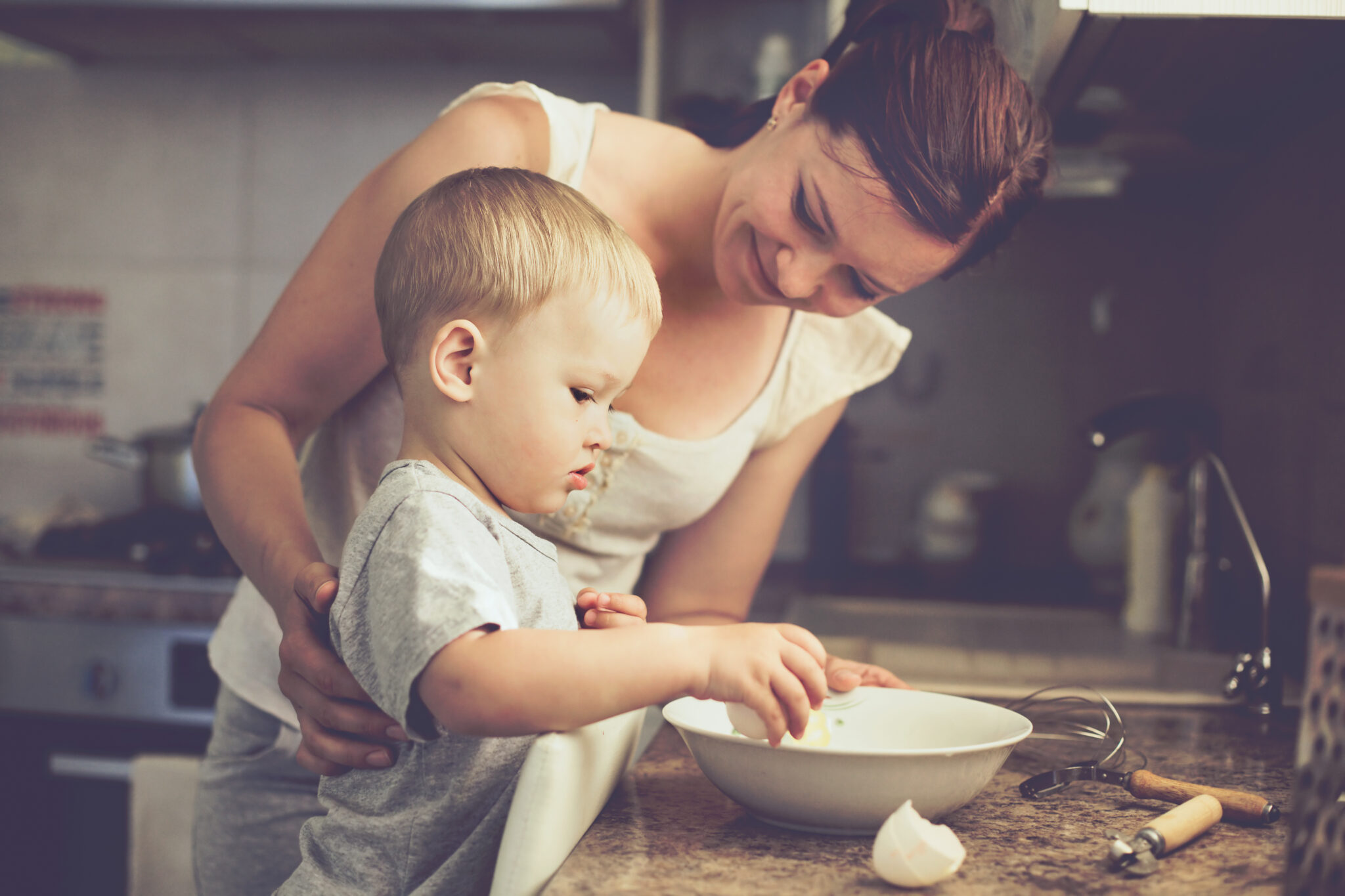 I'm not going to lie to you…I don't like cooking. My kids love it, though!
Since kids need to eat and you need to cook, pull up a chair to the counter and let them help!
11. Indoor Picnics
Make some sandwiches and set blanket down on the floor. Instant picnic!
12. Fort Building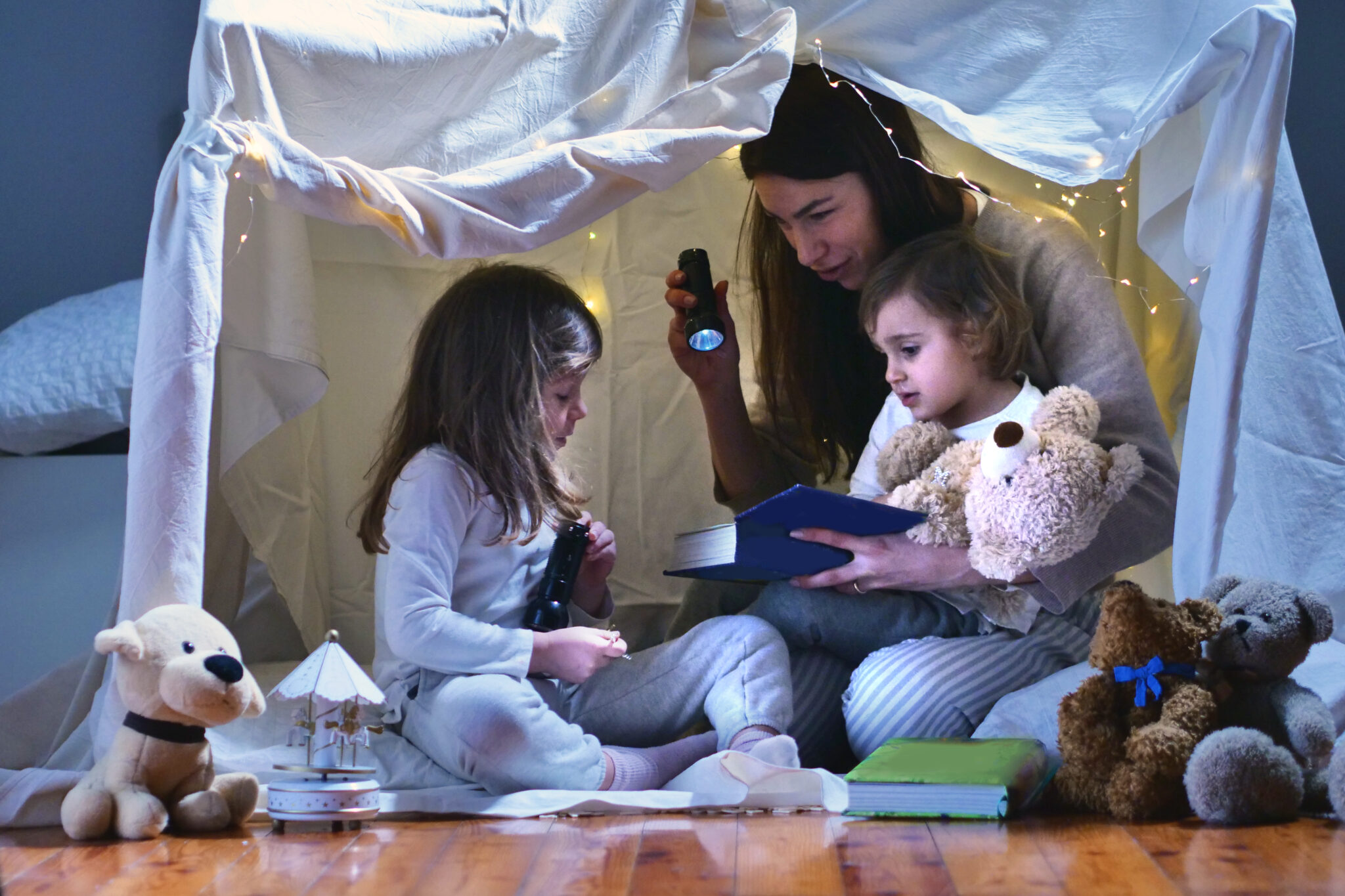 Remember building forts as a kid and how much fun it was? Kids really enjoy having a cozy just-their-size space to play in.
13. Dominoes
Until your kids are old enough to learn how to play a proper game of Dominoes, setting up the Dominoes in fun designs and knocking them over is a blast!
14. Reading
Reading to your child is so beneficial and it's a great indoor activity that encourages literacy and bonding.
15. Hide and Seek
Classic game that will bring out your inner child. We all know how to play this one!
More fun indoor activities
16. Movement and music games
Think along the lines of "Head, Shoulders, Knees, and Toes". Here is a list of some other fun movement activities:
"If You're Happy and You Know It"
"The Hokey Pokey"
"The Dinosaur Stomp" (Mother Goose Club Song)
17. Dance Party
Put on some music and dance! If you have a disco ball or some Christmas lights, that's a bonus!
18. Sorting Activities
A muffin tin and small objects (pom-poms, miniature animals or other objects, or buttons) are all you need to make some awesome sorting activities.
You can sort by:
size
color
shape
classification
19. Touch and Feel Box
For this activity, you just need a box, some scizzors, and some small objects.
Cut a hole in the top of the box, place some items your child is familiar with inside, and have them feel the item and guess what they are.
This is not only super fun for kids, but it helps develop their stereognostic sense, strengthening the connections in their brains!
20. Create a Collage
All you need is some old magazines, scissors, paper, and glue. Help your child pick a theme for their collage and let them find items in the magazines that fit the theme.
21. Build a "Family Tree"
A piece of construction paper and some printed family photos is all you need for this activity. You can go as far back as great-grandparents or keep it to your immediate family.
Not only is this a lot of fun, but it gives kids a visual representation of how the members of their family are related to each other, and where they fit in to the family tree!
22. Indoor Climbing Structure
Though some can be on the pricey side, not all indoor climbing structure are. Below are some great suggestions!
---
23. Indoor Camping
Do you own a small tent that you planned to go camping with, but can't seem to do it because you have little ones? Problem solved.
Camp inside!
Grab some pillows and sleeping bags, a flashlight, and some books and you're all set!
24. Tennis with Balloons
Fly swatters and balloons are all you need for a fun and easy indoor game of tennis with you little ones!
25. Making Slime
Our favorite slime recipes come from simplemost.com.
Messy? Yes. Fun? Also, yes!
26. Ring Toss
Cut holes in the middle of some paper plates and color the edges to represent the teams. Fasten a cylindrical item (like an empty toilet paper roll) to the floor with some painter's tape and that's it!
27. "Lazer" Maze
String, tape, and a hallway are all you need for this activity. Tape the string to various points on the wall and let your kids figure out how to get to the end point without disconnecting the string from the wall.
You can even have a prize at the end of the maze to make it more exciting!
28. Simple Science Experiments
Some examples of simple science experiements include:
Making a string telephone
Seeing if things sink or float
Making a water glass xylophone
Finding out what dissolves in water
29. Sticker and Activity Books
We love our activity books in this house, and sticker books are even more popular! Our favorites are National Geographic sticker and activity books.
---
30. Pasta Jewelry
Do you have pasta? Do you have string and some rubbing alcohol? Then you have a super fun activity!
All you need is some rubbing alcohol, food coloring, a zip-lock bag, and some pasta. Place the pasta with the selected color into different bags with a little rubbing alcohol and wait about an hour.
The color will soak into the pasta. Drain it and let the pasta dry in a pan overnight to let the alcohol dissolve.
Now you are ready for a fun and easy activity that encourages hand-eye coordination and encourages the learning of colors and patterns!
31. Make Birthday and Holiday Cards
There is likely a birthday or holiday coming up soon. Why not use your indoor activity days to take advantage of this and make some cards with your kids?
---
This is by no means an exhaustive list of indoor activities you can do with your kids. Take some of these ideas and make them your own or get creative and come up with your own fun activities!
If you are just plain exhausted and need to plop your kids in front of the TV for a little bit, that's totally fine! We all have those days!
Remember, screens are just another tool in our parenting tool kit.
The activities listed above are easy, fun, and will create lasting memories for you and your children, though!